Not in stock, please put in online order.
SAITEK X52 FLIGHT CONTROL SYSTEM
Website price:
$169.00
inc GST
Qty:
SAITEK X52 FLIGHT CONTROL SYSTEM
ARC Item Code:
GAMESAITEKX52
---
Description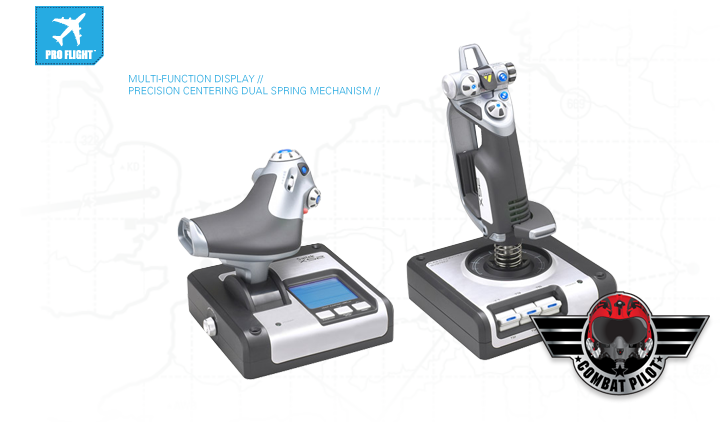 X52 FLIGHT SYSTEM
Developed using customer feedback from our previous award-winning X36 and X45 stick and throttle controllers, the X52 Flight System is the premium stick model outside our Pro Flight Range.
Featuring 23 buttons, three 8-way hat switches and 7 control axes, the X52 gives you 47 basic commands plus the control axes. But when you include the programming options provided by powerful Saitek Smart Technology programming software, which allows you to make use of the 3 position mode switch and Pinkie shift switch, the total number of programmable commands rises to 282!
With all those commands, things could get confusing so you can use the Multi-Function Display (MFD) screen to check programmed command names and use the clock and stopwatch function for timing the legs of your flight plan.
This product is also Combat Pilot approved. Combat Pilot is the ultimate multiplayer combat flying experience created within the Microsoft® Flight Simulator X (sold separately) universe that puts you in the cockpit of realistic, interactive combat training and encounters.
Learn more about Combat Pilot today!
Connectivity: USB 2.0
Windows 7, Windows XP, XP64
and Windows Vista (all versions)
PRODUCT FEATURES
Joystick

Precision centering mechanism, non-contact technology on X and Y axes and constant spring force reduce free play, improve control and increase durability
2-stage metal trigger; 2 primary buttons in 1 convenient position
4 fire buttons including missile launcher with spring-loaded safety cover for instant access
Conveniently positioned metal pinkie switch provides shift functionality to double up on programmable commands
2 X 8-way Hat Switches
3D rudder twist
3-position rotary mode selector switch with LED indicators
3 spring-loaded, base-mounted toggle switches for up to 6 programmable flight commands
5-position handle adjustment system to suit all hand sizes
Throttle

Progressive throttle with tension adjustment, detents for afterburner and idle
2 fire buttons
Scroll wheel with built-in button
Mouse controller / hat switch with left mouse button
8-way hat switch
2 x rotary controls
Smooth-action slider control
Clutch button initiates 'safe mode' to allow on-the-fly profile selection, or to display button functionality without activating